Need high quality traffic to your website? We provide an experienced, transparent and effective way of delivering high performing traffic through Pay Per Click (PPC) advertising campaigns.
We've got a proven track record of providing our clients with great results – meaning you can rest-assured your campaigns, and marketing spend, are in safe hands.
Curious are Google Certified Adwords Partners. Partner status is awarded by Google to online marketing agencies that meet their high standards. As Google puts it…
Work with the best. Google Partners are online marketing companies, trusted by Google.
Our Google Partner status also gives us exclusive access to Google trend reports and market intelligence. Our access to specialist insights means we can better understand your markets and your customers and deliver campaigns that get the best possible results.
Our relationship with Google also gives us access to exclusive offers and vouchers – giving you more bang for your buck.
So what is Pay Per Click Advertising?
Pay Per Click Advertising is a way of attracting visitors to a website and converting them into buyers. Its appeal is the ability to accurately target customers interested in your product or service, with the added bonus of only paying for the traffic that your website gets – you pay per click.
The most common form of PPC ads are the ones that appear in Google's search results – above and to the right of the organic results in response to the users search term. It's also possible to advertise on other websites or in video through a similar mechanism. You can see the PPC ads outlined in red below: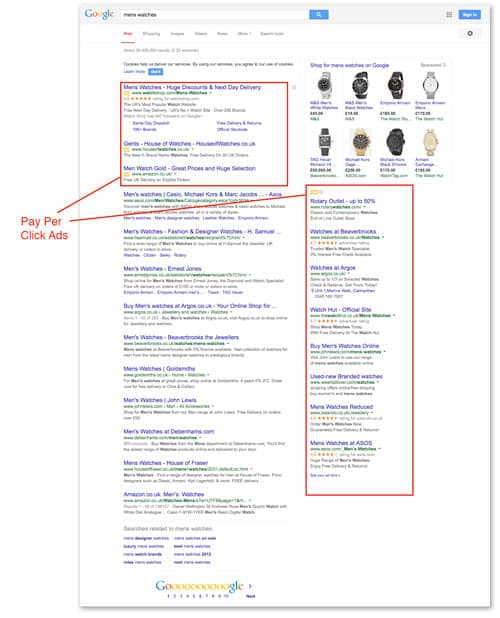 Pay Per Click ads means you target the right audience at the right time, allowing you to only spend your money on the people who want to buy your services – giving you a much greater chance of a return on investment.
Buying traffic through Pay Per Click provides you with complete control. You can set daily or monthly budgets, define the treatment of the users, directi them to the page you want and see how they act. This capability means its possible to optimise your marketing messages for each type of user – and see how they respond. You can then buy more of the traffic that generates most profit and avoid traffic that isn't relevant.
If you want to increase your sales, get your name out there fast, or need to drive more traffic to your website, PPC can be a great way to achieve your goal.
Why use Pay Per Click?
PPC advertising is the quickest way to drive new traffic to your site, and as such, is one of the fastest ways to gain more business and sales. It is also relatively low cost in comparison to other types of advertising, and can provide you with exceptional ROI.
If you're not using PPC, your competitors might be. Where your prospective clients are searching for your services, clicking on a competitors PPC ad can mean that you will have lost their business.
Utilising Pay Per Click for your company means you can get ahead of the competition and gain business that they may have captured.
An agency can be your competitive advantage
Simply put, Pay Per Click campaigns are complicated. Whilst its relatively straightforward to set a campaign up, targeting the right audience, creating the rights ads, and creating effective landing pages are time consuming and challenging for the uninitiated. A reputable agency understands the advanced features available in Pay Per Click platforms and put them to use to get more value from your campaign.
From ensuring that you don't get people clicking on your ads that aren't searching for your product, saving you money, to using advanced features like timed campaigns, our extensive training and experience means we can avoid the common mistakes that most PPC users fall over, saving you money and time.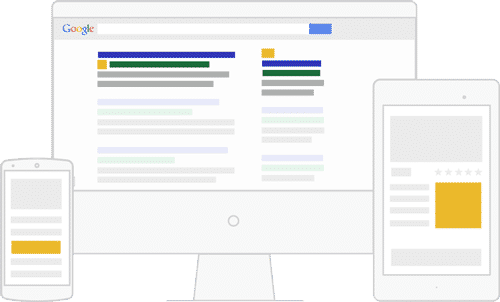 Why Use Curious?
Curious have a great track record for PPC campaign performance, and a wealth of happy clients. We can ensure you maximise your return on investment and quickly get PPC working for you.
Through keyword analysis, competitor research and bespoke analytical tools we can effectively target consumers, focussing on getting you traffic that works, not just generic traffic. Customer testing and input from our clients allows us to hone messaging and conversion rates, giving your campaign the best possible chance of success and an impressive ROI.
We're never satisfied with campaigns simply "doing well". We plan our work into regular test cycles – allowing us to continually make changes to see what works, and what doesn't with the aim of delivering continuous improvement.
All of our team working on your account are fully Google Advanced Ads Certified, and Bing Search Certified, meaning you can be sure they know the best way to handle your campaign, and make you money.
As a Google partner we also have access to Google trend reports and Google market intelligence that allow us unique insights into your market that most other agencies can't get.
We also have access to a selection of vouchers and discount offers only available to Google partners, meaning we can get you more bang for your buck, just by having us set up your account.
How much does it cost?
The PPC budget depends entirely on you and how much you want to spend. We have run successful campaigns from £5 per day and up. Unlike other advertising and marketing avenues, you will only pay for customers who click on your ads, cutting your spend to be as effective as possible.
Our costs start from around £200 per month, and we don't require a minimum contract term. Each client has an entirely bespoke service that results in their campaigns having the best possible chance of success.
Find out how PPC can help your business. Call us on 0330 010 9000 or fill in this form and we'll be in touch.